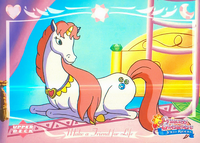 Cleo is a recurring minor character in Princess Gwenevere and the Jewel Riders. She is a young unicorn that is one of Tamara's baby animals. She has relatively prominent roles in some episodes, in particular "Vale of the Unicorns" and "Mystery Island".
Cleo cannot wait to join the Jewel Riders. She admires Princess Gwenevere and hangs on Gwen's every word. In addition to singing back-up to Tamara's vocals, the delicate and soft-spoken Cleo likes to help Tamara in her duties - as long as it does not involve getting dirty.
Behind the scenes
Edit
Show Bible description: "Teal Unicorn, regal and spoiled; thinks Gwen is a genius and hangs on her every word." Elsewhere, it describes as "aqua/green". [1] Her color has been changed more than once during the pre-production: in Enchanted Camelot toy designs, a proto-Cleo was shown as an either white-ish or pink horse with blonde hair.[2]
There is also a unicorn named Clio in Avalon: Web of Magic.
References
Edit
Characters
List of characters
List of episodic characters
---
Main characters
Jewel Riders (Princess Gwenevere, Fallon, Tamara, Sunstar, Moondance), Lady Kale, Morgana, Archimedes, Drake
Major characters
Merlin, the Pack, Shadowsong, Queen Anya, Ian, Rufus and Twig, baby animals
Other characters
King Jared and Goliath, Grimm, Thunderbolt, Cleo, Spike, Travel Trees, Guardian, ancient wizards, Lord Batton, Gliders, Kit, Arienda and the Faery Wraiths, Outlaws, Wintermane
Magic

Magic, Wild Magic, Jewel Quest, Jewel Armor
Magic jewels
Enchanted Jewels (Sun Stone, Moon Stone, Heart Stone), Crown Jewels, Wizard Jewels (Dark Stone)
Places and items
Avalon, Crystal Palace, Enchanted Gardens, Hall of Wizards, Morgana's lair, Jewel Box, Merlin's key
Main magic users
Merlin, Wizards (Morgana), Kale, Jewel Riders (Gwenevere, Fallon, Tamara, Sunstar, Shadowsong, Moondance)
Other magic users
Anya, The Pack (Drake, Thunderbolt), Ian, Rufus and Twig, Babies (Cleo, Spike), Travel Trees, Guardian of the Magic, Arienda and the Faery Wraiths, Wild Magic Gliders, Kit