The Hall of Wizards is location in Princess Gwenevere and the Jewel Riders. The place is featured in the episodes "Wizard's Peak" and "Morgana". 
The Hall is a cavern hidden within a maze of ice caverns and mining tunnels inside the Wizard's Peak mountain. It is where the ancient wizards would once secretly meet and make magic. Now it is guarded by a magic genie who answers only to those old wizards.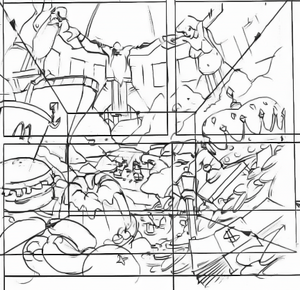 The Hall of Wizards is a cavernous room is adorned with towering, ancient, sculptures. The floor is made of cut stones. The walls are adorned with all kinds of wizard markings, tapestries, and scrolls. The ceiling is painted with constellations from the skies. There is a table in the center with wizard markings on it. On the sides of the room are shelves full of strange wizard items, such as crystal balls and a magic mirror.
The Hall's massive library is located in a separate, hidden room that is only accessible through a swinging wall secret door.
See also
Edit
Avalon

Avalon (Merlin, royal family)
Magic (Crown Jewels, Enchanted Jewels, Jewel Riders, Travel Trees)
---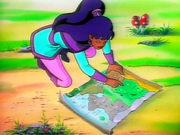 Geography
New Camelot (Crystal Palace, Enchanted Gardens, Merlin's cottage)
Burning Desert, Crystal Cliffs (Hall of Wizards), Great Forests (Thornwoods), Great Plains, Misty Moors, Jungle, Riverdells
New lands and other versions of Avalon
Magic

Magic, Wild Magic, Jewel Quest, Jewel Armor
Magic jewels
Enchanted Jewels (Sun Stone, Moon Stone, Heart Stone), Crown Jewels, Wizard Jewels (Dark Stone)
Places and items
Avalon, Crystal Palace, Enchanted Gardens, Hall of Wizards, Morgana's lair, Jewel Box, Merlin's key
Main magic users
Merlin, Wizards (Morgana), Kale, Jewel Riders (Gwenevere, Fallon, Tamara, Sunstar, Shadowsong, Moondance)
Other magic users
Anya, The Pack (Drake, Thunderbolt), Ian, Rufus and Twig, Babies (Cleo, Spike), Travel Trees, Guardian of the Magic, Arienda and the Faery Wraiths, Wild Magic Gliders, Kit