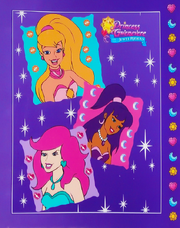 The animated series
Princess Gwenevere and the Jewel Riders
had various
merchandise
released for the show.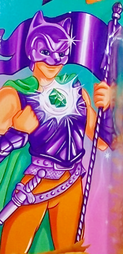 The Hasbro/Kenner toy line had two series of action dolls for girls ages 4 and up. In the fall of 1996, Hasbro planned to reintroduce revamped versions of the dolls well as new characters from the cartoon's second season, but only one figure was released.
The first series contains Princess Gwenevere (Starla), Sun Power Gwenevere (based on Gwen's outfit in "Dreamfields"), Tamara, Fallon, Drake (the only male character with his doll), Lady Kale, Sunstar, and Moondance. The second series contains Deluxe Princess Gwenevere (Starla), Deluxe Tamara, and Deluxe Fallon.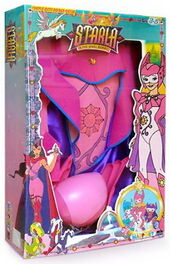 The other Jewel Riders merchandise also included:
a series of collectible trading cards released by the Upper Deck Company in 1996
a "play-a-sound" children's illustrated sound book by Nancy L. McGill (based on the first two episodes and published by Publications International that same year),
Panini Group collectible stickers
Happy Meal and Long John Silver's premium toys (including one for Archie),
a makeup kit, lunchboxes, clothing items, 1997 calendar, etcetera.
There were unrealized plans to produce a video game adaptation. The series' theme song was included on Mastermix's TV SETS CD 14 in France.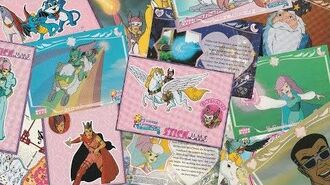 See also
Edit
External links
Edit
Do you own any merchandise from the series?
Community content is available under
CC-BY-SA
unless otherwise noted.