Merlin's cottage or Merlin's house is a recurring location in Princess Gwenevere and the Jewel Riders. It is featured in the episodes "Jewel Quest, Part I", "Revenge of the Dark Stone", and "Full Circle".
It is the home of the wizard Merlin and his owl familiar Archimedes. It is located on the outskirts of New Camelot, behind a river on the edge of the Great Forests.
Enchanted Camelot description: "The interior is a messy collection of alchemist tools, crude half-assembled machines, biological specimens, and domestic clutter, all mixed up together. There is also a clockwork planetarium, a complicated model of suns, planets and comets that revolve and interweave in a complex cosmic dance."
See also
Edit
Avalon

Avalon (Merlin, royal family)
Magic (Crown Jewels, Enchanted Jewels, Jewel Riders, Travel Trees)
---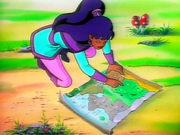 Geography
New Camelot (Crystal Palace, Enchanted Gardens, Merlin's cottage)
Burning Desert, Crystal Cliffs (Hall of Wizards), Great Forests (Thornwoods), Great Plains, Misty Moors, Jungle, Riverdells
New lands and other versions of Avalon